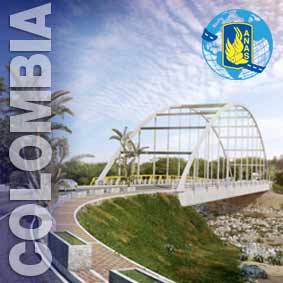 A country engaged in large-scale infrastructure development; an extremely promising market.
Colombia is unquestionably one of the most promising countries in Latin America, from the point of view of long-term planned investments.
The country's diversified economy, in fact, has been constantly growing for ten years now, at rates of above 3%, on average; it also features an efficient network of financial services and has long since launched an ambitious and comprehensive plan for developing its infrastructure.
The Government's policy is to enhance the country's competitive edge by overhauling and upgrading its road network to ensure efficient transport, thus facilitating access to markets and promoting the mobility of goods and people, while at the same time improving road safety and protecting the environment.
Anas International Enterprise is currently managing three consortiums, in which Anas is the lead partner, with 50 employees, 80% of which have been hired locally, and a further 150 local external resources engaged in the production cycle.
In March 2013 a Branch was set up in Colombia, in order to comply with the local regulations.

At present, Anas International Enterprise is engaged in the following projects:
Framework agreement between Anas, Aie and the Servicio Nacional de Aprendizaje (SENA – National Authority for professional Training) for training activities