Anas International Enterprise, wholly owned by Anas, was established in June 2012 to dispose of a specific  company  that could effectively and  successfully operate on foreign markets.
Anas International Enterprise, thanks to the precious experience of the mother company Anas, operates on the international market providing for services that cover the entire lifecycle of an infrastructure. Of road infrastructures
Mission:
ANAS International Enterprise S.p.A.  offers engineering consultancy services in the international markets, proposing to Ministries and peer-institutions supporting services both as a possible partner and as a consultant to improve their road asset management capabilities and practices, also through partnerships with local firms.
Having a comprehensive approach to road infrastructures, ANAS International Enterprise's qualified service portfolio includes planning & design, procurement & construction, operation & maintenance, road concessions, these last representing the flagship brand in terms of leading technologies and customized service.
ANAS International is currently opening new branches and offices abroad to create links with high-quality local companies aiming at jointly developing commercial initiatives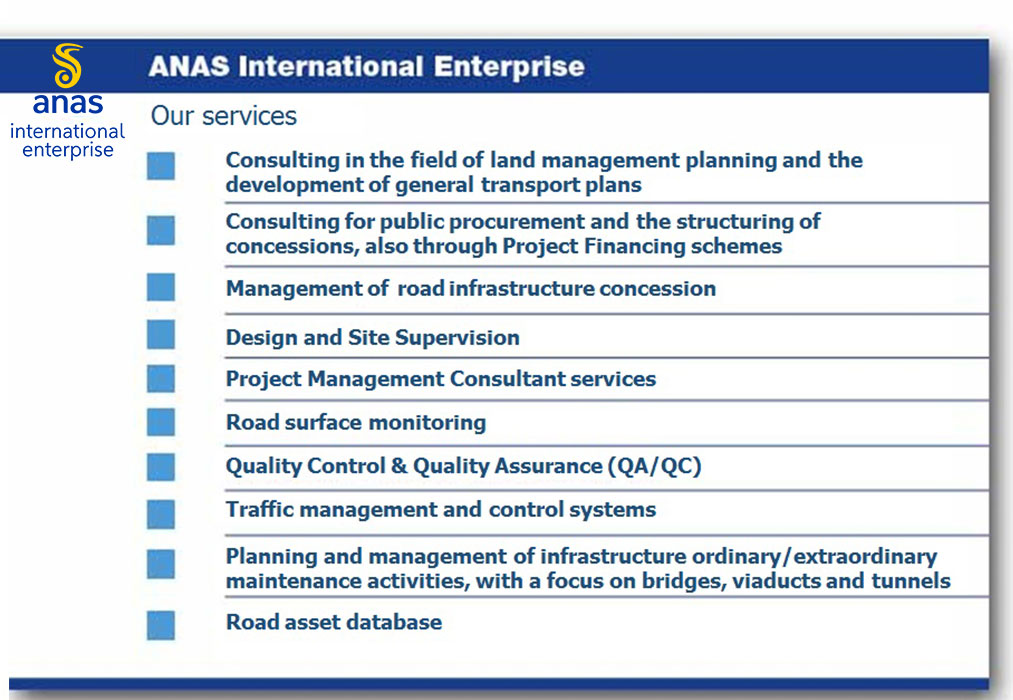 At Anas International Enterprise we manage our parent company's foreign contracts, with a large and diversified service portfolio. Below the main projects for complexity and extension include:

In Algeria: work supervision for a 400 km lot of the East-West motorway, in the east of the country.
In Libia: Project Management for the construction of the 1,750 km long new coastal highway "Ras Ejdyer-Emssad" connecting the Tunisian and the Egyptian.
In Colombia: assistance to the local authorities in structuring (4G) motorway concessions for 9 road corridors (about 3000 km) and final designs of 13 bridges;
In Qatar and Argentina: implementing a quality control system for road surfaces, which includes the development of specific and customized software, the design and development of both fixed and mobile laboratories and training of certified certifications auditors;

In Georgia: Study and Design of 85 km of a new highway, consisting of two sections: Zhinvali – Natakhtari (30 km) and Natakhtari – Rustavi, (55 km, the so-called Tbilisi bypass)

Anas International Enterprise is presently expanding on new markets, namely  in Sub-Saharan Africa, Balkans, Russia, Iran and Central America. Our intense commercial activity, avails of national institutions, and promotes the internationalization of Italian small and medium engineering companies.
Being a highly -experienced public agency, with an 85-year-long history in managing investments in new infrastructure projects and in managing the entire road and motorway network, on behalf of the Italian State, Anas group is undoubtedly the ideal partner for government authorities of countries engaged in implementing important road infrastructure projects (peer to peer agreements).