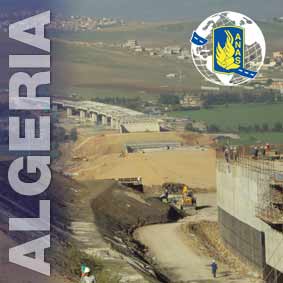 ANAS International Enterprise: a highly professional offering during five years of crucial development of this North African country.

In 2010, Algeria launched an important 5-year public investment plan, featuring a total financial commitment of 286 bn dollars.
The government guidelines for the 2015-2019 period include several very important projects in the fields of transportation (roads, ports, motorways and railways), healthcare (hospitals) and housing, as well as other projects for relaunching state-owned enterprises.
In this framework of infrastructure investments, ANAS International Enterprise can offer its Algerian partners a coordinated set of road engineering and management services, of strategic importance for the country's development.
At present, ANAS International Enterprise is engaged in the following projects:
• East-West motorway–motorway link to the city of Batna 
• Marché n.5 – Eastern Lot of the East-West motorway